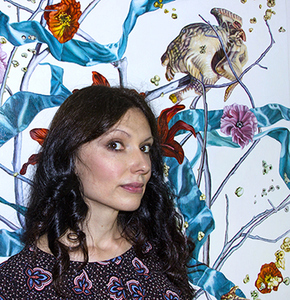 Biography
Monika Malewska was born in Warsaw, Poland. She received her BFA from the University of Manitoba in Canada and her MFA degree from the University of Texas at San Antonio. She is currently a Professor of Art at Juniata College.
Malewska's most recent series of paintings consists of large-scale watercolors depicting various wreath-like arrangements made of bacon. Most of them are symmetrical and somewhat reminiscent of the Rorschach inkblot test. She enjoys combining the formal elegance of design with the recognizable banality of bacon, along with the surreal and absurd accompaniment of other decorative elements such as flowers, butterflies, and fruits. The arrangements are playful and whimsical in a Rococo fashion but also grotesque. In her not-so-still still-lives, she is drawing subtle parallels between the decadence and frivolity evident in certain historical genres and our contemporary culture. Yet, unlike the static tabletop displays of the traditional still life genre, her compositions use ribbons of bacon to suggest optical movement and a departure from the typically somber content of
Vanitas
paintings.
Malewska works in several art media, particularly painting, drawing, and photography. Her work has been shown in various galleries and museums, including Phoenix Gallery, NYC
,
Blank Space Gallery, NYC, Denise Bibro Fine Art Gallery, NYC, Camel Art Space, Brooklyn, NY, the Blue Star Complex in San Antonio, Texas, the Benton Museum in Storrs, Connecticut, the New Britain Museum of American Art in New Britain, Connecticut, Orange County Center for Contemporary Art, Santa Ana, CA, to name a few. Her work has been featured in
Huff Post
(Arts and Culture section),
Direct Art Magazine
,
Hi-Fructose
,
Fresh Paint Magazine
,
Gastronomica: The Journal of Food and Culture
and other publications.